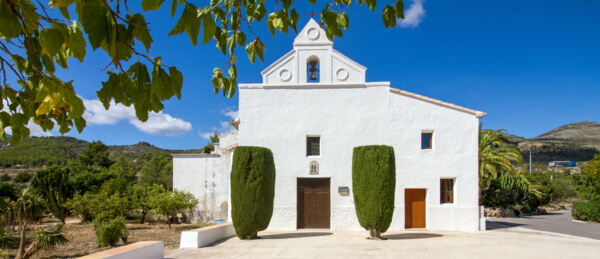 BENISSA : ERMITA de LLEUS
Meeting Point
Benissa ERMITA de LLEUS, Partida Lleus, 23, 03720, Alicante.
GPS: 38°40'45.3″N 0°00'49.1″E
Walking Route
Distance : 5,3 km
Around the country lanes of Lleus area, through orchards of Almonds and pine wood.
Terrain
Walking Surface
Mostly well made surfaces (tarmac, concrete), but some stoney track and dirt road. Proper walking shoes required !
Ascent
undulating, 4 short but some very steep hills of 50m , 110m ascent over 2,2km
Directions to Meeting Point
Coming from Teulada, take the N332 towards Benissa. About 1km after the Benissa (Pedrera) trading estate stay on the new N332 Benissa bye-pass. After about 2km. take the slip road sign-posted for CV749 – Pinas and CV750 Xalo (Jalon). At the roundabout take the 3rd exit to Pinas CV749. Continue towards Pinas and just before the bridge over the AP7, there is a road to the left, signposted LLEUS. This road is parallel to the AP7 until dipping down to the left and then uphill to the right. The road twists and turns for another 1Km (IGNORE all roads and tracks on right and left) until after a downhill section a 'Y' junction is reached.
Take the right hand fork (sp Cami de Lleus/Casa del Maco/and a purple arrow on a concrete block).
Go down the steep hill (parallel with the AP7) for 1 Km and at the bottom take the right fork sp Casa del Maco.
After 400m take the left fork and the Ermita is 100m further on on the right.