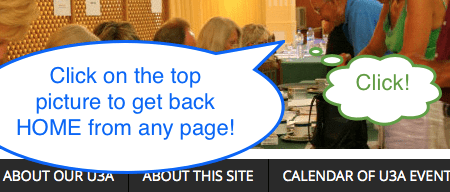 This is the site of U3A Moraira-Teulada. It contains information about the organisation, meetings and reports, group activities, travel events and other activities of the U3A and its members.
We also have a page on Facebook. Please check it out and leave your feedback – on Facebook, of course.
Following requests by members to have a space to advertise items they wish to sell, buy, lend, borrow or just ask questions, we have set up a Facebook group: U3A Moraira-Teulada Members. If interested, please visit https://www.facebook.com/groups/u3amembersmoraira/ and request to join the group – or click here for further information.
The website has been entirely redesigned and it now makes it easier to access information providing, we hope, an improved user experience.
From the outset, the first requirement was that the site be easy to maintain, taking into account the fact that we cannot have a full time, professional web administrator. After fulfilling this first, essential requirement, I focused on the user experience: the site should have a pleasant design and be easy to navigate.
Editors and authors are now in charge of the content, the web administrator being one of several contributors, besides providing support and tuition – under the overall authority of the President and the Committee.
For the technically minded, this site has been built using WordPress, an open source CMS (Content Management System) and customised with a number of themes, widgets and plugins. One of its main advantages is the fact that we can add pages and services as required, without major redesign or excessive overhead.
For those nostalgic of the old site, it will still available online, for a while, but it is not longer maintained and information will become outdated very quickly.
Your feedback about the site, suggestions and (we hope few) bug reports are welcome: please contact the web administrators Piotr Azia & Peter Bayliss on  webmaster@@u3amoraira-teulada.org
Problems using this email link?
PS: Wherever you may be in the site, you can get back to the main (home) page by clicking on the picture displayed at the top!