Frequency: Weekly: Thursdays – 10:00 to play at 10:30 Venue: La Senieta, Sports area, Moraira. Group Leader: Dave Kelly
Walking football has taken off in the U.K. and rekindled a sport we lost, many, many, years ago. If you're keen to have a go, you can join the group and be part of the craze that is sweeping the UK.
Remember the days before dodgy knees and wonky hips ? Remember the days when you still had ambitions to play for England and be part of the '66 World Cup squad? Well, it might not be too late!
A few rules:
Walking only, no running
Non contact
No tackles with force
No trips, pushes, jumps, holds, slides, obstruction
Indirect free kicks awarded
Mixed sex
Adapt rules to playing area
Enclosed pitch – rebounds allowed
Keeper only in the area
Back passes allowed
Keeper stays in the area (unless agreed beforehand)
Players not allowed in the area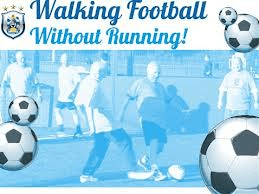 Contact the Group Leader Dave Kelly (Problems using this email?)
---
Moraira (two teams) vs U.K. (two teams) Wednesday October 11th The tournament will be held at the football pitch at the sports centre in Moraira. From 10.30 am to 3.30pm Spectators are welcome. Please come along ...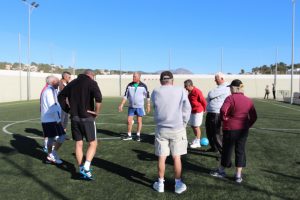 Walking football for men and women is up and running again in Moriara. The session is every Thursday morning 10.30am -12.00pm at the sports centre next to La Senieta in Moraira. Walking football is a NO running , NO tackling and with minimal contact for all players of 50+ to enjoy and although its walking football it does provide a good workout. The Thursday session is actively looking to increase our lady membership numbers so we welcome everyone to come and try it. For the more energetic amongst us we also have a VETS Football session on a Friday evening 6.00pm -7.00pm at the same venue. VETS Football is normal 5 a side football so it has running and tackling as in the normal game.Current Covid rules are in place and everyone has a temperature check before they are allowed into the ground for each session. For more information please contact us at groups-football@u3amoraira-teulada.org ...