Travel Schedule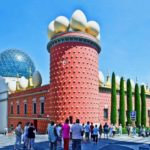 Monday 11th September 2023 for 6 nights
557€ per person (double occupancy) Leader: Coral Guise-Smith A fantastic trip of discovery and locations involved with the fascinating life of
Salvador Dalí. This is a trip based around the Dalí Trilogy in the province of Girona.  Whilst
based for two nights in Figueres, excursions will include the Dalí Museum in
Figueres, the Gala Dalí Castle at Púbol and a day trip to the beautiful coastal
town of Cadaqués to see the Dalí Summerhouse.
The itinerary includes stopover nights in the historic centres ...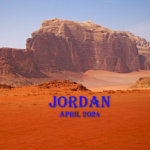 I am delighted to be able to offer this trip to Jordan. The dates are yet to be finalised due to flight prices. All pictures are in order of visits but are only examples. Leader Coral Guise-Smith The proposed itinerary is as follows Jordan Trip Itinerary DAY 1 · CITY OF ORIGIN - AMMAN Flight departure from the city of origin to Amman, Transfer to the hotel. Overnight stay in Amman. DAY 2 · AMMAN - AJLOUN CASTLE - JERASH ...

To book email Coral Guise-Smith on travel-events@u3amoraira-teulada.org
---
Insurance
Members are reminded that they are responsible for their own insurance unless it is included by the travel company. It is recommended to take out your own travel insurance for the fullest cover possible. U3A is not liable in any respect for any loss or injury that may be suffered by Members whilst participating in the Association's activities
Please note that, at times, it is necessary for the U3A to make deposits with travel agents for future trips, and whilst we do not anticipate any such problems, in the event of a travel agent or hotelier becoming bankrupt, Moraira U3A would not be in a position to refund any losses that might occur. We strongly recommend that you ensure that your own personal travel insurance provides cover for any such losses.
Operating Guidelines
First people to give their names and pay money go first on the list. When full we will create a reserve list.
Your place on a trip is not guaranteed until we have received your full payment for a day trip or your deposit for an overnight trip.
No refunds given unless the Travel Group are able to sell your place on any given Trip.
If you have to cancel please contact the trip organiser who will if possible contact people at the top of the reserve list. It is NOT acceptable for you to substitute other people, especially non-members, whether or not there is a reserve list.
For all overnight and trips abroad, a copy of your passport will be required by the travel team before final payment is made. In addition, a form giving contact details of somebody authorised to act for you in an emergency.
The Travel Group have the right to change the itinerary of any trip in the case of any emergency or unforeseen circumstance. This includes hotel accommodation, travel location and time duration during a trip/tour.
The price charged covers all expenses incurred in the organization of the trip, together with all necessary subsidies for the trip Leaders.
Method of payment for trips
All deposit and balance payments for overnight trips must be made by BACS transfer. Day trips can be paid in cash at a General Meeting or Coffee Morning or by BACS transfer. Confirmation of BACS transfers will be given on receipt.
The U3A bank account details will be sent on request via email. Please ensure that you enter your surname and the trip reference so that we can allocate your payments correctly.
The timescale for receipt of payments will be issued at the time of booking.
Your place on a trip is not guaranteed until we have received your full payment for a day trip or your deposit for an overnight trip.
---
Travel group Newsletter archive