Frequency: Weekly Group 1 Mondays 15:00 – 17:00 and Group 2 on Fridays 15:00 – 17:00
Venue: El Martillo, Moraira (below Pepe la Sal by the fish roundabout)
Group leader: Cindy Hinton
Rummikub (also known as Rummycube, Rummyking and Rummy Tile) is a tile-based game for two to four players invented in Israel more than 50 years ago. It is not a team game, and each week players on each table will be drawn randomly to give everyone an opportunity to mix with the rest of the group.
As the name suggests, Rummikub is a variation of the card game Rummy where cards are melded to the table in 'runs' or '3 or 4 or a kind'. The difference in Rummykub is that once sets have been melded they can be manipulated with additional cards to form new sets containing at least three cards each.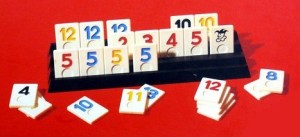 A Rummikub Set contains 106 tiles, of which 104 are number tiles and two are joker tiles. There are four coloured sets of tiles (black, yellow, blue and red) ranging in value from one to thirteen, each combination of colour and number is represented twice. Players each have a rack to store tiles, without revealing them to the other players, similar to that used in Scrabble.
| | |
| --- | --- |
| | Rummikub can also be played with two decks of 52 standard playing cards – preferably small ones, plus two of the four jokers. Cards have their face value, with ace counting for 1, jack for 11, queen for 12 and king for 13. Because space on the playing table is limited, it is advisable to use small cards, and to deal the cards rather than taking them from a pile. |
---
Contact the Group Leader: group-rummikub@u3amoraira-teulada.org
Problems using this email link?