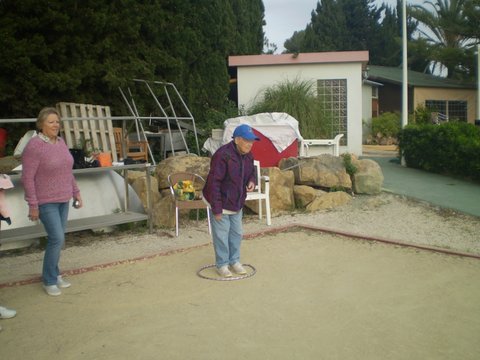 Frequency: Weekly Thursdays Time: 14:00
Venue: Brevis Bar, Sol Park, Moraira
Group Leader: Mike Court

For further detail contact Group Leader by email: group-petanque4@u3amoraira-teulada.org
Following the success of the original group and then the next two pétanque groups, resulting in a waiting list of interested players, in January 2011 a fourth group was set up to meet on a Thursday afternoon at Brevis Bar, Sol Park in Moraira.
What is Petanque?
The object of the game is to throw your Petanque boules – usually in an arched back-spin – so that they land closer to the Jack than those of your opponent, or to strike and drive your opponents boule away from the Jack.
Pétanque (in French) is a form of boules where the goal is to throw metal balls (boules) as close as possible to a small wooden ball called a cochonnet or Jack.
The only essential need is a set of steel boules (three minimum), which should have identical markings (grooves). A set of boules can costs anywhere from 8 euros upwards and can be purchased from most Chinese shops.