The Walking Football Group are keen to enlarge the Ladies walking footballgroup following demand from many of our U3A lady members.
The rules are simple no running, no contact, and no tackling allowed. If you are interested in joining this group, in the first instance please contact Dave Kelly
Walking football has taken off in the U.K. and rekindled a sport we lost, many, many, years ago. If you're keen to have a go, you can join the group and be part of the craze that is sweeping the UK.
Remember the days before dodgy knees and wonky hips ? Remember the days when you still had ambitions to play for England and be part of the '66 World Cup squad? Well, it might not be too late!
A few rules:
Walking only, no running
Non contact
No tackles with force
No trips, pushes, jumps, holds, slides, obstruction
Indirect free kicks awarded
Mixed sex
Adapt rules to playing area
Enclosed pitch – rebounds allowed
Keeper only in the area
Back passes allowed
Keeper stays in the area (unless agreed beforehand)
Players not allowed in the area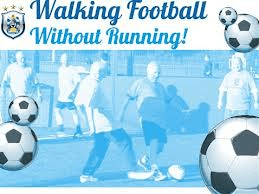 Contact the Group Leader Dave Kelly (Problems using this email?)