Report by
Pete & Paula Brampton
Having missed the group trip to Elche in May, we had the opportunity to visit these beautiful gardens last week, and I must say, they were a wonderful surprise.
The Hueto del Cura or priest's garden, started life as a family orchard, and over the years the third son of the family, Chaplain Jose Castano dedicated most of his life to the orchard and even built a chapel on the site to conduct daily services of mass.
At the time, it was mostly a vegetable garden in a rural area where fruit including dates were grown and chickens and cattle roamed.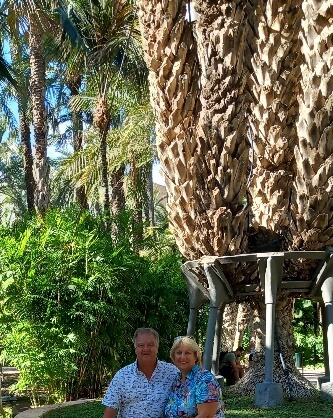 Within the garden is a rare male date palm tree (Phoenix dactylifera), initially with a main trunk, then when it was approximately 30 years old, it grew 7 shoots from the trunk which became a botanical phenomenon, as any shoots normally grow from the ground. Over the years it has been supported by various means, currently with 8 arms measuring 17 metres in height and weighing over 8 tons. A truly magnificent sight for a tree now over 180 years old.
Over the years, the garden was protected from numerous offers to build on it, and indeed it underwent a transformation to become an open space for visitors, with successive landscapes within the garden, to include exotic palms, cacti, citrus, various shaped ponds, sculptures, ducks and even peacocks.
Even on the warmest of days it is a shaded oasis in the centre of Elche, and for a modest entrance fee, well worth a visit.