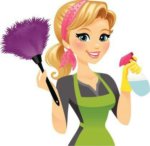 Business Description
If you rent out your property for holiday rentals, we can be of assistance to you. We offer a cleaning service including windows, property check in/out, laundry service and errands. We speak English, German and Spanish.
Regular price € 15.00 per hour
Discount price for U3A members -10% = € 13.50 per hour
With regular booking – weekly over a period of at least 3 months there is a 20% discount for U3A members = € 12.00 per hour
In addition, after a paid trial and getting to know each other, we offer you a long-term prepayment discount offer with 25% or 30%, which can be discussed.