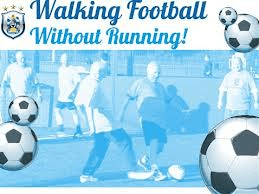 New kids on the pitch, well not really kids just 55 years old plus, members of Moraira Teulada U3A's new "Walking Football" group at their second session on Thursday morning on the Astro turf pitch in Moraira situated between Espai La Senieta and the Health Centre. The group under the leadership of Chris Dry and coached by John Freeman an ex professional footballer seen taking the group through a very short warm up routine, are looking for new players (must be members of the Moraira Teulada U3A), to join their ranks to enjoy the exercise and company in the craze that is sweeping the UK.
If you are interested, it is open to both sexes, so join in the fun, contact Chris by going to the U3A's website and sending him an email using the link provided or join him and the others on the pitch at 10am for a start at 10:30am this coming Thursday.
The rules are fairly simple, firstly no running, no contact, no tackles with force, no tripping, pushing or holding. There are other rules but they are easy to pick up, so come why not and join them.
John Manley
Many thanks
John Manley
Press Liaison Officer Moraira-Teulada U3A