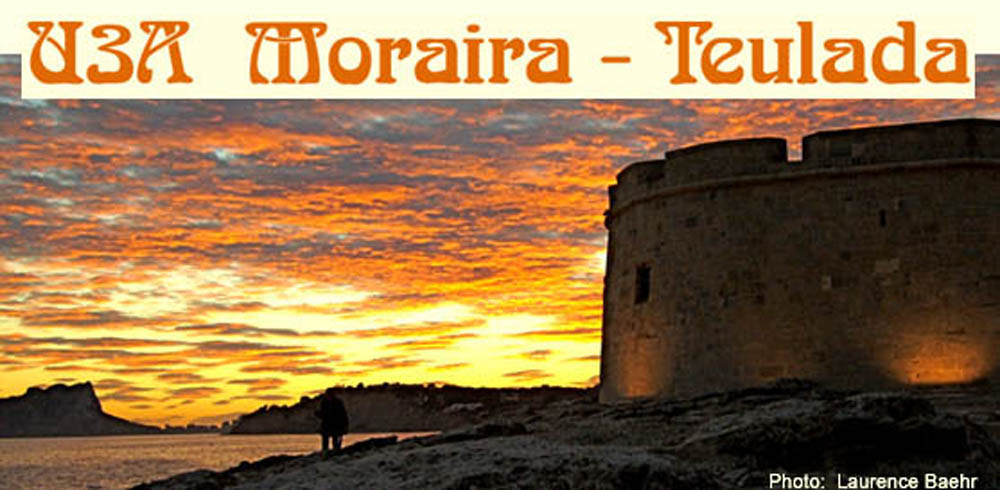 University of the Third Age Moraira-Teulada
Minutes of the Meeting held on 6th April 2015
At Salon de Banquettes, Teulada
It is confirmed that the President and the Secretary attended this Monthly Meeting as voted in at the AGM on 1st December 2014.
Jill Cole welcomed all the members to the April monthly meeting and especially the 42 new members. Jill explained that the meeting would be an Extraordinary Meeting and that this would be the First Calling. Jill explained where the emergency exits were. The lift should not be used in the event of an emergency. It was requested that mobile phones were either turned off or put on silent. The raffle for the meeting is a €50 voucher for Pepe la Sal which would be drawn after the talk by John and Meri Snell about the History of the Lions Club.
David Haxon read out the Synopsis of the Minutes from the Monthly Meeting held on 2nd March. The full minutes had been posted on the Website. These minutes were proposed by Don Roberts and seconded by Shirley Baehr. The minutes were approved by the members with a show of hands.
There were no matters arising from the Minutes.
President's Address
Jill said that members may have noticed that some members are wearing a sticker, this is to make it easier for the Group Leaders and existing members to welcome New Member(s). So if anyone noticed someone looking lost with a sticker, they should introduce themselves and make the new person feel welcome.
Jill thanked Dot Garrett for doing a great job on her first Newsletter and asked if anyone has items please email Dot.
There has been a good response to the first aid course and Jill will be contacting the company this week to find suitable dates. If anyone would like to attend they should send an email or see
After the meeting Jill thanked Anne Cattle and Carol Mantle for organising the trip to Cartagena. Jill said it was the first time she had been to see the Easter Celebration and she hopes it won't be the last time.
Jill introduced a member who is making pillowcase dresses for Kenya, a dress was shown to give people the idea for making them. Closing date for making the dresses is 21st May.
Reports
Treasurer's Report EGM on April 6 2015
On April 6th we held the following amounts:
| | |
| --- | --- |
| Contingency |  € 4.000,00 |
| Current account |  € 17.747,05 |
| Cash in hand | € 916, 57 |
| Total | € 22.663,62 |
The treasurer sent out a full set of accounts to all the Committee.
Group Co-ordinator
Shirley reminded members that the best place to find information is through the web site. She also reminded everyone about the U3A Forum. Shirley suggested that it's a good way to pass on information and feedback would be appreciated.
Vovinam is a new group which has been started, it is traditional Vietnamese martial art which is for all ages and deals with breathing exercises and slow sequences of movements. Patricia is the leader and is well qualified and has taught Vovinam for 30 years and has travelled around the world to practice and teach, full details are on the website.
At the end of 2014 the Creative Writing Group were invited by the Denia Writers Circle to take part in a short story competition. Several of our members submitted stories and five were in the final 10. The winning three were read out on Bay Radio in ascending order on successive Sundays. Second place was Richard Singleton and the winner was Hilary Coombes, both U3A Moraira members. Congratulations to all who took part and especially the winners.
A breakfast group has been suggested, Shirley asked if anyone would like to get this going.
Shirley is always looking for new ideas for groups and will be pleased to help get any new ones off the ground.
Travel Report
There are places still available on the following trips:
DAY TRIP TO LLADRO FACTORY IN VALENCIA on the 6th May at a cost of €35 per person including all refreshment mentioned on the information of the Trip.
SEGUNTA CAVES 9th June. €15 which includes coach and boat trip.
TRIP TO PENISCOLA 5 DAYS 4 NIGHTS on the 14th to the 18th September. We will be staying in a three star hotel on a half board basis including wine with your meals at a cost of €320. This trip is scheduled to coincide with the Moors and Christians fiesta being held in Peniscola and will include two half days and every evening in Peniscola, as well as trips to Morella, Zaragoza and Tarragona.
CHRISTMAS SHOPPING TRIP TO BARCELONA 4 DAYS 3 NIGHTS on the 30th November to 3rd December. In Barcelona there are many Christmas markets to visit and we will be in Barcelona when the Christmas lights are switched on. Barcelona is said to host the most spectacular Christmas Markets so this should be a brilliant trip.
THERE ARE STILL PLACES AVAILABLE ON THE DAY TRIP TO VALENCIA BIOPARC – Wednesday 29th April Cost 30€ per person
The Prague trip is full but due inevitable cancellations, it is worthwhile putting your name on the reserve list if you are interested.
FULL DETAILS OF ALL THE TRIPS ARE AVAILABLE FROM THE TRAVEL GROUP AND CAN BE FOUND ON THE TRAVEL WEBPAGE or on the displays adjacent to the Travel Desk.
Cultural Arts Report
9th April, Auditori Municipal, Ondara, 10th April Casa de Cultura Alfaz del Pi, 14th April Casa de Cultura Calpe.
Footlights – Stepping Out, tickets 12€. This has been cancelled. (Advance notice of November production 'Annie')
6 – 11 April 8 pm. Javea Players, Lilies on the Land. Tickets 8€
10th April & 22nd May. Concerts Costa Blanca has tickets for 3 important concerts with Orquesta de Valencia. Send details if interested. Minimum of 35 people per concert. Tickets 40€ start time 7.30.
17th April 8pm Bootleg Bee Gees – Sold Out
17th April – Arturo Serra. Jazz at the Parador Javea. Tickets €15.
18th April Songs from around the World Dolce Divas, Claire Post and Kirsty Glen. La Senieta, Moraira. Support charity 'One Step Malawi'. Tickets from bookings@headlinerscb.com.
30th April Todos Juntos Javea. Gala event for first night of Nabucco in Valencia. Cost €110.
14th May 8pm. Concerts Costa Blanca. Valencia Opera presents Nabucco. Tickets €82 (includes bus)
23rd May 7 pm. Salon de Actos Teulada. Costa Blanca Male Voice Choir in concert with L'Alfas Canta. Tickets 10€
28th May. 8 pm Festival Ballet Academy of Mari Paz. Auditori Teulada.
28th May. Concerts Costa Blanca Valencia Opera presents Narciso. Tickets €45 including bus. Auditori Teulada Moraira.
31st May 7.30, Il Divo Tribute, Guest act Duo Intermezzo, La Senieta Moraira. Tickets 15€
20th June 8 p.m. Teulada Moraira Lions Club. Free summer concert. U3A music of 50's, 60's, and 70's. Seafront in Moraira.
Members/Committee Liaison
Brian commented that the sound system appeared to be working better since the microphone had been used correctly. The notice board is available and Brian reminded members that it could be used by all. U3A cannot use member's subscriptions as donations to charities. However if a group wanted to make individual donations it was acceptable.
Matters Arising
There were no further questions.
Jill made the Second Calling for the Extraordinary Meeting.
Item 1.The accounts have been audited by Ian Brown and they have been on the website since early March. Jill asked for approval and adoption of accounts. Ann Colclough proposed and Colin McNae seconded, which was then approved by the members.
Item 2. This related to the timing of the AGM which has been in the last quarter of the year and causes problems if there is a change of Treasurer. It would be more appropriate if we could hold the AGM in the first quarter of the year, this would mean that whoever is Treasurer can complete the year's accounts and work with the auditor. This is not a problem if the Treasurer continues for more than one or two years but if, as in 2014 the Treasurer changes then completing the accounts becomes complicated. Jill proposed that the AGM is moved to the first quarter of the year. This was approved by Ann Colclough and seconded by Colin McNae. There was then a call for a show of hands for adoption. This was freely given.
Any other Business
None.
Jill introduced the speakers who were John and Meri Snell speaking about the History of the Lions and how the funds are used in the area.
The raffle was drawn and the winning number was 488 which was won by Carol Mantle.
The meeting closed at 11:35. The next monthly meeting will be on 4th May 2015.
Proposed as a true and accurate record of the Monthly meeting held on 6th April 2015