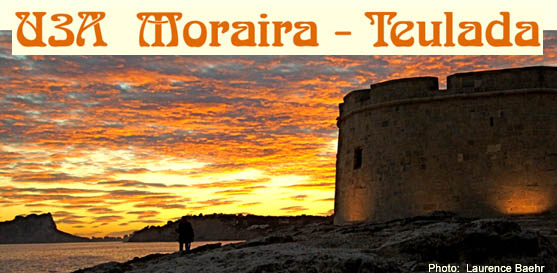 University of the Third Age Moraira-Teulada 
Minutes of the Meeting held on 3rd November 2014 at Salon de Banquettes, Teulada 
It is confirmed that the President and the Secretary attended this Monthly Meeting as voted in at the AGM on 2nd December 2013.
The President, Jill Cole, welcomed everyone to this Meeting, especially the 16 new members. Jill went on to remind the members about the Emergency Procedures and asked them to use the main stairs and those through the kitchen, and that the lift should not be used in the event of an emergency. Jill then asked if everyone had received a raffle ticket.
David Haxon read out the Synopsis of the Minutes from the Monthly Meeting held on 6th October 2014. The full Minutes had been posted on the Website. These Minutes were proposed by Rona Hurst and seconded by John Freeman. The Minutes were then approved by the members with a show of hands.
There were no Matters Arising from the Minutes
President's Address
Jill said that 277 Dinner/Dance tickets had been sold and reminded members that El Canor is a lovely venue for this sort of event and that the food is always excellent.
Jill had received an email from local CBN reporter Nikki Luxford, who had returned safely with her parents, from Malawi. It had been a worry to some members with the Ebola scare continuing that she had been back in Africa. However now they are back safely and Nikki had given an update on what had been done with the funds that had been raised.
Jill reminded members that next month will be the AGM and the elections would take place. Jill said she was pleased to report that nominations had been received for all the committee positions, except one, and it was hoped that this could be filled from the current committee. Jill also confirmed that she is standing again as President, which seemed to be a popular decision with the members who gave her a spontaneous round of applause.
Jill said that there would be no Travel Report as all current trips were full, and there would be nothing new announced until the New Year.
Reports
Treasurer
John Hopwood read the report on behalf of the Treasurer, Titch Crossfield who was ill. John said that since the Monthly Meeting on 6th October there had been expenses of €1001.40 made up as follows:
| | |
| --- | --- |
| Stationery, Copying & Printing | 99.90 |
| Room Hire x 2 | 180.00 |
| Committee Expenses | 45.00 |
| Gifts & Raffle | 121.00 |
| Website Fee | 120.00 |
| Film Licence | 435.50 |
Income for October was €300, made up from 3 renewals and 27 new members, making the total membership 1504.
Therefore as at 3rd November 2014 the following amounts were held:
| | |
| --- | --- |
| Contingency Fund | 4000.00 |
| Current Account | 18402.81 |
| Cash in Hand | 989.91 |
| Total | €23392.72 |
The Current Account balance included the amount of €6275.00 being held for the Dinner/Dance tickets.
John said that this month the 2015 Budget would be worked on.
Known expenses still due for the remainder of the year are:
The Christmas Monthly Meeting
The budget towards the Christmas Dinner
There were no questions regarding the Treasurers Report.
Group Coordinator
Shirley Baehr said that in her Report she had quite a few announcements to make.
Member Rudy Maarsman has offered to give Guitar Lessons. He has been playing guitar for 45 years, has a teaching degree and is offering a Beginners Acoustic Guitar Class on Wednesday mornings from 10.30 – 11.30. This would be followed up by an Intermediate Class on Thursdays from 14.30 – 15.30. This second class would be for people who have been playing for at least a few years and would like to brush up their skills.
Shirley was still looking for more members interested in a Walking Football Group, a new craze that was sweeping the UK.
The Golden Oldies, now in its 4th year, has had another very successful evening, and they have an opening for a keyboard player to join them. Anyone interested should contact Ian Mair or Group Leader John Hopwood.
The Coffee & Cake Group has had its first get together and Jean Mudge has offered to run the Group which meets once a month at 11am at the Bonissimo Cafe. The next meeting would be on 17th November.
A new Smartphones & Tablets self help had also had its first meeting and Jan Adams has offered to handle the admin for this group. It is held as an informal get together with participants helping each other and swapping information. The meetings are held on the first Tuesday of each month at Cafe Relax at 2pm.
Zumba Group. Shirley said the response to this new group had been fantastic and there are enough people to create two groups. The Tuesday group was full, but there were spaces available on Fridays.
Shirley asked the members to look at a new feature on the Website called "Vintage Spain" which shows old photos of the area.
Shirley said that, as usual, more information and details of all Groups could be found on the Website which is a font of information. Also news and more information is now being posted on the U3A Facebook Page.
Cultural Arts News
Beverley & Hugh Stewart read a synopsis of events being offered throughout November and December. They told members that further details could be found on their Notice board at the Meeting or on the Website.
17th October 2014 – 29th May 2015. Yaron Traub and the Valencian Orchestra 10th Anniversary present a series of concerts. For further information on the rest of this season's concerts contact info@concerstCostaBlanca.com
3rd – 7th November. The Javea Players were presenting the 39 Steps, a comedy /thriller, which commences at 8pm at a cost of €12.
Thursday 6th November. Teulada – Moraira Lions were presenting "Night of the Titans Rock and Roll" with
tribute acts from Elvis and Shaking Stevens at Espai La Senieta at 7.30 with tickets costing €15.
Weds & Thurs 12th & 13th November. The Footlights' presents "Half a Sixpence" at Casa de Cultura, Calpe from 8pm and tickets will cost €12.
Friday 21st November. The gypsy jazz trio Fabian Barraza plays Django Reinhardt at the Parador in Javea. The evening starts at 8.30pm and tickets cost €15.
Saturday 29th November. The Teulada Moraira Lions are presenting "Out of this World", an evening with Chess and Lady Gaga Tribute Acts at the Auditorio in Ondara. Tickets cost €15.
2nd,6th,13th & 17th December. The Costa Blanca Male Voice Choir presents a series of concerts at various venues, some of which are free.
3rd,4th & 5th December. Amadeus is presenting "A Christmas Carol" again at various venues.
Thursday 11th December. The English Choir is presenting a "Christmas Singalong" at La Senieta, Moraira.
Saturday 13th December. Jazz at the Parador presents Jeff Jerolamon's Swing Thing, to honour one of the world's greatest drummer's Gene Krupa.
Tuesday 16th December. Concerts Costa Blanca in association with Palau de les Arts Reina Sofía in Valencia, are presenting "Manon Lescaut" at 8pm with tickets costing €82.
Beverley & Hugh thanked Eileen Hodson for reading out the cultural news last month, in their absence.
Member/Committee Liaison
Brian Nicholls gave an outline of matters discussed at the last committee Meeting as follows.
Brian started with a sensitive subject, that of having an obituary list. Brian said that given the older age of some of our members, the committee had discussed how best to address this issue. Most organizations do have such a list and the committee understands that when a tragic event happens the close relatives have much greater priorities than that of informing the U3A. This could then result in an embarrassing situation if a group Leader was to try and contact someone who has died, and this could then add to the distress. Brian asked that if possible, perhaps a close friend or a Group Leader could inform Brian himself or a committee member of the event and the information would be passed on to the Membership Secretary.
Jill Cole had recently attended a regional meeting of local U3A Presidents to discuss how other organizations operate. The outcome of this is to be discussed at the next committee meeting and Brian said he would pass on any relevant information at the next Monthly Meeting.
A few members had said that they had difficulty with looking at the Website. Brian said that the Website is constantly being developed with continuing technical advancement, which it is a very complex task. He said that our U3A is very lucky to have a Webmaster who is prepared to carry out this time consuming task, and thanked Piotr Azia for his work; all Brian asked of the members is that they remain patient and that any criticism is constructive.
Proxy voting was briefly discussed, but as it was now too late to implement it for this year's AGM, however the matter would be discussed in the middle of next year for the 2015 AGM.
Brian then said that his role was well demonstrated with the Cultural Events Report in that a few members complained that the report tended to be too long with too much information given. This had been passed on to the committee and then the Group Leaders and Brian said that this month the information was more succinct and he hoped that the members had noticed.
Brian reminded new members that he likes to hear from anyone who has a comment, question or query to be raised at committee and that he would not divulge any names unless asked to do so. Members can contact Brian via his email or the Suggestions Box.
Anne Cattle from the Drama Group told the members of their latest production which, incidentally, is not Christmas related. They are producing a piece about the lives of Noel Coward and Gertrude Lawrence. This would be on 25th November at 12 noon at La Senieta and entrance will be Free, followed by a matinee on the same day at 6.30pm at the same venue. Anne said this production promises to be fun and she hoped as many people as possible would be able to attend.
Matters Arising from the Reports
Member Rona Hurst reminded members that she is the Care Coordinator and is there to receive any information whether it is good news or bad. Her contact details are on the Website. 
Any Other Business
Colin McNae said that this week, on 6th November, there is a Mayor's Meeting at El Canor, from 6pm, giving an update on what the council is doing for the residents of Teulada-Moraira.
Jill Cole said that the local elections are being held next May and if anyone wanted to vote they must be signed on the Padron. Dot Saunders asked if there would be provision for proxy voting, and Jill said that people should check with their own councils, but that she doubted any system would be in place for the Expats.
Jill then introduced the guest speaker Angela Scottower.
Angela spoke about the Shackleton's expedition to the Antarctic, how it had failed with the sinking of his ship the Endurance, but how that story had inspired her in her career in the police force. Angela was with the Metropolitan Police for 30 years and said that she used Shackleton's experiences as the leader to help her in her work. The lecture was very interesting and the members, having asked several questions, applauded Angela. Jill presented Angela with a thank you gift and asked her to draw the raffle.
The raffle, which was for a €50 voucher for Iceland Supermarket, was won by Rona Hurst.
The Meeting closed at 11.50
The next Monthly Meeting which will be the AGM will held on 1st December 2014 
Proposed as a true and accurate record of the Meeting held on 3rd November 2014