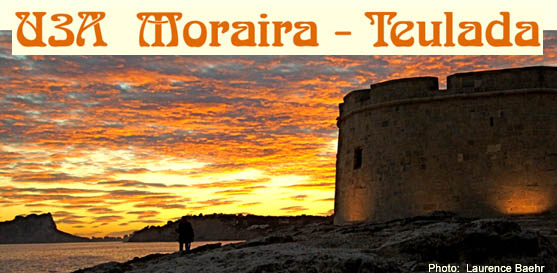 University of the Third Age Moraira-Teulada
Minutes of the Meeting held on
3rd February 2014 at Salon de Banquettes, Teulada
It is confirmed that the President and the Secretary attended this Monthly Meeting as voted in at the AGM on 2nd December 2013.
 The President, Jill Cole, welcomed everyone to this Meeting, especially the 52 new members.
Jill went on to remind the members of the Emergency Procedures and asked them to switch off their mobile phones.
Don Roberts read out the Synopsis of the Minutes from the AGM held on 6th January 2014  the full Minutes having been posted on the Website. These Minutes were proposed by Chris Dobson and seconded by David Haxon, and were then approved by the members with a show of hands.
There were no matters arising from the Minutes.
Jill told the members that on Wednesday 29th January, there had been a dedication ceremony of a 200 year old olive tree for the late Pamela Kershaw in what is to become a new memorial garden. A plaque had been created by member Bob Whittle, and all agreed that with the wording on slate, it is quite beautiful. Jill continued that it was lovely to see such a good turn out for the event, even though the weather was slightly dubious. The committee was pleased to welcome Gordon Kershaw, local Councillor Sylvia Tatnell, former President Ann Colclough and Nikki Luxford from the CBN. Both Sylvia and Ann made very moving speeches and a toast was proposed by the current Vice President Don Roberts. The tree is situated behind the beach in Moraira, behind the pond and near the Petanque courts and Jill encouraged members to go and see it for themselves.
The President said that when the Moraira-Teulada U3A had been set up in 2008, Mike Lawson had volunteered to create and manage a Website. Although it was a daunting task at first, with Mike learning as he went along, he says he had enjoyed creating it and had found it very satisfying. However now Mike feels it is time that he handed over to someone else and Piotr Azia would be taking over from him. The hand over will take place very shortly, and the new site is being redesigned with new technology. Piotr will provide a preview of the new site at the March Monthly Meeting and the committee hopes that the new format will be easy for members to access information.
Jill thanked Mike on behalf of the committee and he was presented with a thank you gift of a restaurant voucher as a token of appreciation. When Mike came forward to collect his gift, he was given an appreciative round of applause.
Jill said that last month, when the meeting closed there were a number of Newsletters left over, so this month she had ordered fewer copies.  As there were so many more members attending this February meeting, Jill apologised to anyone who wasn't able to collect a copy.
Reports.
Treasurer. The Treasurer, Titch Crossfield, said that since the Meeting on 6th January there have been expenses of €571.15 made up as follows:
Room Hire                                                   90.00

Payments to Groups                                  161.69

Copying & Stationery                                   67.75

Printing & Computer                                    95.71

Translation                                                   79.00

Monthly Voucher                                          50.00

Committee Expenses                                   27.00
Income from the January Monthly Meeting was €5560.00, made up from 523 renewals and 33 new members, making the total membership 556 members.
Last January there had been 824 renewals and 94 new members, and although 2014 shows fewer renewals, it should be remembered that the first two dates in January were very early in the month, when many members had not returned from their Christmas celebrations, or were taking advantage of the extra dates booked for renewing this year.
Therefore as at 3rd February 2014 the following amounts were held.
Contingency Fund                                    4000.00

Current Account                                     10647.63

Cash in Hand                                             403.67

Total                                                     €15051.30
Group Co-ordinator.
Shirley Baehr said that she had very few announcements to make, but that first of all she would like to thank Mike for all the help he has given her with the Website over the years.
Phil Chaney Group Leader of the Film Group said that 130+ members had enjoyed the first film of the year, Zero Dark Thirty, and that February's film will be light hearted, enjoyable and funny. It is based on the 1960's Dagenham Ford strike, and is factual and has many well known actors in it. The film for 10th March is The Girl with the Dragon Tattoo, for 14th April is Argo and for 12th may is Life of Pi, all start at 6pm.
Pauline McGough has returned from America and will be taking members back again for Spanish. Members should contact the Spanish Co-ordinator Linda West for more details.
Shirley will be trying to restart the Cocina Club later on, as this was very popular last year.
As always Shirley is looking for ideas for new Groups and reminded members that the Website is a wealth of information for details of all the groups.
Travel Group News.
Carol Mantle read this report, and added her own thanks to Mike for his support with the Website over the years.
22nd March Night Out to Benidorm Palace
There are still a few tickets left for this evening event which will cost €55 or €65 depending on the menu chosen. The cost includes coach travel to and from Moraira and both menus include a half a bottle of wine and a glass of Cava. Of course also included is the fantastic floor show.
Barcelona 21st – 24th April
This trip offers 4 days and 3 nights at a cost of €280 pp with a single supplement of €75. There were still spaces available and €60 deposit would secure a place. There will be an optional trip available to visit the Monastery at Montserrat, which is just North of Barcelona.
2nd – 4th May Trip to Confrentes & Albarracin
Javea U3A have organised this trip and have a few places available. It is for 3 days and 2 nights and the cost is €205 with a single supplement of €45. For further details please contact the Travel Group.
8th May Day Trip to Valencia
This is a new day trip and already the coach is half full. The trip will cost €10 per person and the coach will leave Moraira at 9am returning at 6pm. There will be ample opportunity to go sightseeing or shopping.
6th June Day Trip to Valdigna Monastery and the Albufera Lakes.
This is another trip that is being repeated at a cost of €25 which includes a boat trip on the lakes. The morning will be spent at the monastery with lunch being taken at the little village of El Palmar. After the trip round the lake there will be a visit to one of the fisherman's cottages.
In September trips are being planned to Segovia, Avila, Salamanca and Aranjuez. Also in May 2015 it is hoped that there will be a trip to Prague, Vienna and Budapest.
Carol said that if any members have any ideas for Day Trips, the Team would be very pleased to hear about them.
As usual all details of all trips can be found on the web page.
Anne Cattle told members about the Drama Groups' production of the pantomime Cinderella, which was being performed at La Senieta in Moraira on Tuesday 4th February. This had previously been performed twice very successfully for about 500 local Spanish children at Christmas time. The performance was free and lasted for about an hour.
Cultural Arts News
Hugh Stewart read out the first part of this report, and Beverly the second part.
12th February
At 8pm Concerts Costa Blanca are presenting in association with the Palau de la Musica, Mahler's 9th symphony. Tickets cost €70 including the coach.
Different Dates in February.
The Footlights Youth Theatre are presenting "West Side Story" at
13th –15th Feb at Casa de Cultura in Calpe
22nd Feb at Teatro Municipal in Torrevieja
7th March at Auditori in Teulada
Tickets can be purchased online at www.instanticket.es
14th February (This event is sold out)
The Teulada Moraira Lions are presenting Abba Elite in concert at La Senieta in Moraira at 8pm. A prize will be awarded for the "best" Abba costume. For tickets at €15 call 966491917.
23rd February (This event is sold out)
For €41 members can see "Disney on Ice" in Valencia. For more information contact Mel on 638598095.
13th March
Concerts Costa Blanca, in association with the Pilau de les Arts Reina Sofia in Valencia, are presenting Rossini's L'Italiana in Algeri. Tickets are €80 which includes the coach.
24th – 28th February
The Javea Players are sponsoring Tim Hardy, a professional actor from the UK, who will be performing "The Trials of Galileo" from 8pm. Tickets are available from Mabel on 965794927.
Report from the Member/Committee Liaison.
Brian Nicholls told members that he has returned to the Committee in a non-voting post as the Members/Committee Liaison and that he had attended the committee meeting held on 28th January. Brian said that six of the items on the Agenda, including the Pamela Kershaw Memorial Ceremony, had already been reported at this meeting, so he would not be covering these.
Webmaster. The changeover to a new webmaster is rather more complex than it sounds because the new site is being redesigned and updated. Although there may be some operational problems during this transitional period, everyone is aware of these and issues are being dealt with as they arise.
Expenses for Committee Members and group Leaders. Brian said that really this was not applicable to Group Leaders as there is an arrangement with the Group Co-ordinator who has an allocated budget to assist them with equipment etc.
As with any organisation the claim for expenses is a difficult one and is a potentially contentious issue. Brian said there was a long discussion on the subject. Those members who occupy an executive position obviously have to be reimbursed for any expenditure directly related to their role which is legally required by the Constitution. However there is a grey area, and the discussion revolved around the definition as to what might constitute a legitimate expense for the other committee members. Several members stated that, as they are all volunteers, any form of expense claim should only be made in exceptional circumstances.
Discussion about this item is still ongoing and will be reported on in due course.
Formation of a Charity Group. U3A groups are barred from making charitable donations from members subscriptions, and the consensus of opinion was that as this is the legal position, there was no point in forming a specific group within the association.
Members are entirely free to donate to whatever their chosen charity is, and they are equally free to form informal groups to achieve this.
The present policy, reflecting the members wishes, of not having charity collection boxes and charity fund raising raffles at Monthly Meetings remains in place.
Gifts for retiring Committee Members (and Group Leaders). It was felt that members who have devoted a reasonable amount of time to the work of the association should receive a token gift given on behalf of the members.
The distinction between Group Leaders and committee members is that the Group Leaders work on behalf of their Group, and so recognition for their services should come from the Group Members. However committee members work on behalf of the association as a whole, and therefore their services should be recognised on behalf of all the members. Care Co-ordinators Post.  As with all social organisations with large memberships there are occasions for happy personal celebrations, as well as, sadly, the inevitable serious illness and even occasionally the death of a member.
Quite often the committee and the members only know of these things well after the event.
It has therefore been proposed to nominate a Care Co-Ordinator to whom the details could be reported and, with the family's approval, information would be passed on.
An experienced volunteer has been appointed to take over this role, and the President will give further details about this later on.
Brian said these were the main points of interest at the committee meeting and asked if there were any questions or comments. There were none.
Care Co-ordinators Role
Jill said that she was very pleased to report that Rona Hurst had agreed to become the first U3A Moraira-Teulada Care Co-ordinator.
Jill said that the committee had realised some time ago that with a membership of over 1000 "Third Agers", health problems, deaths, mobility, coping, age related issues as well as happy milestones like 50th & 60th Anniversaries, births of great grand-children etc are occurring more frequently. We would like to show that our U3A cares by informing the membership, where quite often help and comfort (and congratulations) could be given.
In time Rona may be able to put members in touch with others in a similar situation, support groups etc, or ask members if they can visit someone in hospital or at home.
Members would now be able to email Rona in matters of care, with information that they wish to be shared with the whole membership or that other members could help with.
Any Other Business
Member Rob Craig wanted to warn the members of new Speed Cameras which were now in force in Teulada. There is one at each end of the dual carriageway, and the first members would know of it is when they received a Fine in the post. As the speed limit is only 40kph, members should be careful.
Jill then introduced the guest speaker, Graciela Kaplan, who kept the members entertained and spellbound while she spoke of her career as a ballerina. There were some very funny anecdotes which had all the members in stitches with laughter.
After a marvellous talk, accompanied by slides, a few members asked some questions, then Jill thanked Graciela very much and the members gave her rousing applause. Don presented her with a bouquet and wine as a token of thanks, with which she was delighted.
The monthly draw was made. This was won by Margaret Cooke who received a €50 voucher for the supermarket Pepe La Sal.
Jill Cole closed the Meeting at noon.
The next Monthly Meeting will be held on 3rd March 2014.