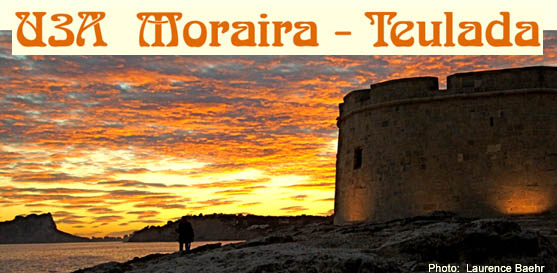 University of the Third Age Moraira-Teulada
Minutes of the Annual General Meeting held on
2nd December 2013 at Salon de Banquettes, Teulada
The Treasurer, Jill Cole, Chaired the Meeting and welcomed everyone to this 2013 AGM.
Jill made the First Call for the AGM as this is must happen half an hour before the Elections when there is an insufficient proportion of the membership present to hold an AGM.
Jill pointed out the emergency exits to everyone, in case of an evacuation of the building.
Regarding the Christmas Party, Jill thanked Pat Clarke, Shirley Baehr and Sue Popkin for dealing with the tickets and generally organising the tables, seating plans and menus.
Several committee members have met with Sylvia Tatnell regarding Pamela Kershaw's Memorial, and where the memorial Olive Tree is going to be planted. The committee is still waiting for the Town Hall to indicate when this will happen.
Jill thanked Pat Clarke again for the excellent Newsletter this month and Pat has asked that the members send her more articles.
Benitachell and Teulada Town Halls are in the process of updating their Padron Lists.  Residents should renew every five years, and non-residents should renew every two years. Registering on the Padron means that the Town Halls receive money for every person on it from Valencia Council. Members should take their Residencia certificate and/or Passport and their old Padron certificate. The deadline for attending to this is the 15th December.
The Synopsis of the Meeting held on 7th November 2013 was then read by Don Roberts. The full Minutes had been posted on the Website during November and these were proposed by Yvonne Romain and seconded by Jan Doggett.  The members approved the minutes with a show of hands.
There were no Matters Arising from the Minutes.
Reports
Treasurer.
Jill Cole reported that since the last Monthly Meeting on the 4th November there have been expenses of €1200.11 made up as follows
Room hire                               80.00

Payments to groups              165.11

Committee expenses              28.00

Stationery and copying           15.00

Group hospitality                   912.00
Income from November meeting was €170, and this was made up from €60 for renewals and €110 from new members.  This means that the Membership now stands at 1501, made up from 284 new members and 1217 renewals.
Income for the Christmas party was €965.
Therefore as at 24th November 2013 the following amounts were held.
Contingency Fund                                    4000.00

Current Account                             15408.53

O/w Christmas deposit                             4930.00

Cash in hand                                              475.18

Total                                 19883.71
Jill said that she would be going El Canor later to pay €8200.00 for the Christmas Party. After this has been paid there will be a balance of around €5000 in the Bank Account.
Jill had revised the 2014 Budget and has calculated that €10,200.00 will be needed to cover expected expenses. This excludes any subsidy for any Dinner/Dance, Fun Day or Music for 2014.
Jill has estimated that if the Membership Fee is kept at €10, at the end of 2014 there will be a balance of around €10,000, and a reduction could then be considered for 2015.
If the Membership fee is reduced to €5 this will mean that the balance would only be around €2000.
The committee had discussed this and was recommending to the membership that the fee remains at €10. Therefore Jill asked for a show of hands to vote on this issue.
The vast majority of the members voted for the Membership Fee to stay at €10 for 2014, with about 10 members voting against. A member asked if the Committee had considered a new fee set at €7.50, and Jill said this had been discussed in depth, but voted against because of the need to handle vast amounts of change.
Jill then asked the members to vote on whether the €50 monthly draw should continue. Again a huge majority of members voted for this to continue, with about 20 people voting against.
Member Tony Fox asked how many people were attending the Christmas Party and was told that 328 tickets have been sold. He then commented that therefore 1500 members are subsidising 328. Jill agreed that this is true and said that is why no subsidised events are being included in next year's budget.
Another member asked why such a large balance is needed in the Bank Account and Jill replied that this is so that unexpected expenses, and claims for Group expenses can be met without any problem.  Someone else commented that the Contingency Fund could be used for unbudgeted items but was told that it cannot be used in this way.
There were no further questions or comments from the Members.
Group Co-Ordinator.
Shirley Baehr said that her report would be short because a lot was happening at the Meeting.  Film Group Leader Phil Chaney was approached by Tony Fox about running a Sub-Film Group showing Specialist and Classic Films, so that the new Licence can be put to better use. Phil and Shirley were both happy with this idea. The plan is to show these types of Films on the 4th Monday evening of each month and have a discussion period afterwards.  The first film, which will be West Side Story, will be shown on the 27th January at La Senieta.
The History Lecture planned for the 9th December has been changed from "Victoria's Children" to "Edward VIII". Further details are available from the Group Leaders.
Peter Romain will be starting a new Computer Group in the New Year and will be concentrating on Windows 8.
Piotr Azia will be running a workshop regarding Facebook in the New Year, so that members can use and understand the U3A Facebook page.
During 2013 five new groups were started and Shirley said she would like to be able to match this for 2014.
Shirley took the opportunity to thank all the Group Leaders for all their hard work as without the Groups there would be no U3A, and wished them a Happy Christmas.
Travel Events.
Carol mantle read out the Travel News.
22nd February Viva España
This evening out to the popular restaurant costs €35 includes a three course meal and Flamenco Floor Show and coach, which will leave Moraira at 7.30pm in time for the evening meal.
22nd March Benidorm Palace
This is for a night out at Benidorm Palace and costs €55 or €65 depending on whether you order a four or five course meal. The cost also includes the fantastic floor Show, coach, a glass of Cava and half a bottle of wine.
21st – 24th April Barcelona
This trip is being repeated as it was so successful last year. The price is €280 pp with a single supplement of €75. Optional excursions include a trip to the Monastery at Montserrat, and a two day pass on the Barcelona Tourist Bus.
10th – 16th May Jerez
This trip to the Jerez Horse Fair also includes visits to Seville, Cadíz, Ronda and Córdoba. It last for 7 days and 6 nights and costs €455 for half board. The single room supplement is €150.
Cultural Events.
2nd – 7th December
The Javea Players are presenting "A Christmas Carol" at their Playhouse in Javea. It commences at 8pm and tickets will cost €7.
4th December
The Calpe and Benissa Lions are presenting a Christmas Concert by The Costa Blanca Male Voice Choir at The Casa De Cultura in Calpe. Tickets cost €10
11th December
At the Fisherman's Church in Javea there will be a Community Carol Concert by The Costa Blanca Mail Voice Choir accompanied by The Dolce Divas.  Entrance is free and begins at 7pm. The same concert is being repeated at Benitachell Church on 18th December.
12th December
Concerts Costa Blanca is presenting Verdi's Requiem in the Concert Hall at the Valencia Opera House.  Tickets are €55 which includes coach travel.
12th December
The English Choir are performing a Christmas Concert at La Senieta at 6.30pm. Tickets are only €5 and information can be obtained from janetbrown@gmail.com
13th December
Concerts Costa Blanca is presenting Handel's Messiah at the Palau De La Musica in Valencia, tickets cost €45 including a coach.
13th December
Jazz is being played at the Parador, Javea with Celia Mur and starts at 8.30pm with tickets costing €10.
14th and 15th December
At 2.30 and 7pm Big Fish Entertainment is presenting Jack and the Beanstalk at the Auditorium in Ondara. The tickets are priced at €12.
15th December
The Montgo Chorale Society will be performing Christmas carols at the Pedreguer Church, and tickets cost €10
8th – 12th January
The Careline Theatre is presenting Dick Whittington and his cat in Alcalalí, and tickets will cost €12.
24th January
"Showtime" is being presented at La Senieta at 7.15pm in aid of the Charity AKIRA.
31st January
Costa Blanca Concerts are presenting a Beethoven Concert. Tickets will be €37 which will include a coach.
February
Advance warning about a trip to Valencia to see Disney on Ice which is being arranged by Dave's Coaches, more information will be available at a later date.
As usual details of all events can be found on the website.
Before Jill handed over to the Election Officer she wanted to thank the present Committee for all the work they have put in during the year both behind the scenes and at the Monthly Meetings. Jill said that it had been a difficult year and that several committee Members had resigned, namely Ann Colclough as President, Frank and Jenny Lee and Linda West. Jill thanked them all for all the hard work that they had put into the U3A.  Jill continued that thank you gifts had been passed to Ann, Frank and Jenny, and Linda's was presented to her in person. Linda said that although it had been hard work, on the whole she had enjoyed her 5 years on the Committee and was applauded by the members.
To recap on a few events that had happened through the year Jill reminded the members of our 5th Anniversary Party in May. She said that Frank Lee and his band of volunteers did a great job arranging it and although Jill had felt unsure about the inclusion of a Steel Band, it had turned out to be successful and she was surprised at how good they were and their energy. Jill said she thought that all those who had attended had enjoyed themselves.
At the Monthly Meetings, Speakers had been reintroduced, but not at every Meeting, and if anyone knew of a good Speaker they should let a Committee Member know.
Also the Monthly Draw was introduced which, as the members have indicated that they are happy with, will continue next year.
The following new Groups have commenced
Scrabble
Solo Uno (Singles Group)
Mosaics – a second Group
Pilates
Gardening (where the Newsletter reports have inspired Jill – bit she lives in an apartment)
Thanks were given to some Group Leaders who have stepped down namely Elizabeth Wilson – Craft Group, Norman Peterken – Singles Group and Angela Chantry – Cultural Arts.
The 2013 Membership commenced with Renewals on 7th January when 508 members were dealt with. The year ended with the membership figure reaching 1501. The 2012 final Membership figure was 1449.
Renewals for 2014 will be handled at the Monthly Meetings and at extra dates at La Senieta in Moraira on 2nd January, 13th February and 17th March.
Jill reiterated that members should think "what can they do for the U3A, rather than what the U3A can do for them"
After the Election Jill reminded people that our own Group, The Golden Oldies, would play a few numbers and this would be followed by the raffle and, as is usual at Christmas, there would be more than one prize.
There were no other matters arising.
Then Jill Cole made the Second Call for the AGM before handing the Meeting over to Peter Griffiths as Election Officer.
Peter introduced himself and said that at each AGM the U3A Constitution requires a new Committee to be elected for the following year's administration.
Peter said that the list of the Nominees and Proposers were available on the Committee Table if any members wish to see them. There were no contested posts, so the procedure was quite straight forward and only required a show of hands for the votes to be registered. The outgoing Committee had asked Peter's advice on this and it had been agreed to continue as in previous years. Peter asked the members if they were happy to vote as before and they indicated that they were, this meant that a show of hands to register the vote either FOR or AGAINST was all that was needed.
The Voting would consist of two parts. Part one would be for the four executive posts which have to be voted on individually. The executive positions are those committee members who are legally required and identified for a specific role. Part two is for the remaining posts and can be voted for en bloc. These are committee posts which are created to fulfil management tasks as required.
Peter asked if there were any questions before the voting began, and there were none. Peter then reminded any prospective new members that they were not entitled to a vote.
The Election
Part One.
The President. Jill Cole was the nominee. The majority vote was in favour of Jill.
Vice President. Don Roberts was the nominee for this position. The members voted with a majority in favour of Don.
Secretary. Margaret Roberts was the nominee. The members voted with a majority for Margaret to continue in this role.
Treasurer. Christine Crossfield was nominated for this post. The members voted with a majority in favour of Christine     (k/a Titch).
The signatories that can sign on behalf of the U3A with La Caixa Bank, account number ES74 2100 7686 6522 0000 9909 are as follows Jill Cole, Margaret Roberts, Christine Crossfield and John Hopwood.
Ann Colclough and Frank Lee are no longer signatories on the Bank Account..
Part two.
Peter read out the nominees and positions for the rest of the committee posts, and asked the new nominees to make themselves known to the members.
Membership Secretary                                      Sue Popkin

Deputy Membership Secretary                          Margaret Williamson

Group Co-Ordinator                                           Shirley Baehr

Travel Group Co-Ordinator                                Carol Mantle

New Members Liaison                                        Shirley Tuckey

Deputy Treasurer                                                John Hopwood

Website Liaison                                                   David Haxon

Speakers Liaison                                                 Eileen Haxon

Member without Portfolio                                     John Freeman

Member without Portfolio                                     John Manley

Members/Committee Liaison                               Brian Nicholls
Peter called for a show of hands for all these positions to be voted for en bloc; there was a huge majority in favour of the Nominees from the members.
Peter said that the voting procedure was now concluded and asked for any matters arising from the election, there were none. Peter then handed over the rest of the Meeting to the newly elected President, Jill Cole.
Jill then introduced the Golden Oldies Group who gave us a very cheerful and lively selection of music, which was appreciated by all, including some energetic dancers. After an enthusiastic round of applause Jill thanked the Group for entertaining the members.
A free raffle was then drawn and Jill wished the members a Merry Christmas.
The Annual General Meeting closed at 12.00pm.
The next Monthly Meeting will be held on 6th January 2014
Proposed as a True and Accurate Record of the Annual General Meeting held on 2nd December 2013
Proposed by………………………………..Seconded by…………………………………..
Secretary……………………………….