Feb
7
Fri
2020
An Evening at Benidorm Palace
Benidorm Palace presents their exciting revue show "Aqua".   An international cast of 40 talented artists invite you onto a luxury cruise liner to sail the oceans of the world on an aquatic adventure.  Ports of call include Spain (of course), Venice, Egypt and New York City.
Along with transportation to Benidorm Palace, a four course dinner is included in the cost of the trip.  There is a choice of two menu types – the Gran Palace or the Gran Palace Plus menus.   Both types of menus include half a bottle of wine per person (choice of white, red or rose wine and a glass of cava on arrival.
Full details of the menu choices will be available at the Travel Desk at the General Meeting on 4 November or will be emailed to you on booking.
We will arrive at Benidorm Palace around 8.30 pm and leave for the journey back to Moraira around 12.30 am.
Cost: €70 or €80 dependant on menu choice
If you are interested in this trip please either contact the Travel Desk or email
Lynn Clark at travel-events@u3amoraira-teulada.org
Feb
20
Thu
2020
Day Trip: City of Arts and Science – Valencia
CITY OF ARTS AND SCIENCE
VALENCIA
THURSDAY 20th February 2020
Trip Leaders: Kay McKenna & Lynn Clark
See Below for Prices 
This visit we are going to the City of Arts and Science in Valencia. The site the museum is on comprises of 350000 sq mts in the old course of the river Turia. The complex is devoted to culture, education and leisure activities.
You will have a choice of areas to visit:-
HEMISFERICO is built in the form of a human eye, as pictured above, with a planetarium featuring the latest technical advances, Imax cinema and laser show all in one.
THE MUSEU DE LES CIÈNCIES PRÍNCIPE FELIPE (Science Museum) has interactive installations including a huge reproduction of a DNA chain, Foucault's pendulum, and many other interactive elements including a space simulator.
OCEANOGRAPHIC – The aquariums of the water world. There are Polar zones, Dolphinarium, Red sea aquarium and Mediterranean seascape and a couple of underwater tunnel's, 70 meter's long where the fish have chance to gawp at YOU!.
The prices for this trip depend on what you want to see.

Hemesferic and Science Museum combined ticket and Coach for = €25.00
Oceanographica and Coach for = €40.00
Please note – when booking state your choice for the day. You will be charged accordingly.
If you are interested in this trip please either put your name and email address on the list at the Travel Desk or email.
Lynn travel-events@u3amoraira-teulada.org
May
10
Sun
2020
Overnight Trip: Andorra & Costa Brava
ANDORRA & COSTA BRAVA
10 – 16 MAY 2020
7 Days / 6 Nights
Leaders: Lynn Clark and Sue Popkin
Cost of the trip:  Price will range from €575 to €495 depending on numbers of bookings.   Single supplement : €168 ( €28 per night)
Our trip will start with a two night stop in the beautiful Principality of Andorra nestled between France and Spain, with duty free shopping and picturesque mountain walks. We then move on to the Costa Brava and to the home of Dali the world-famous genius of Surrealism. During our visit to Costa Brava we will visit Besalú, a medieval town with its astonishing fortified bridge, will also go to Girona for the Flower Festival and to see where the Game of Thrones was filmed and a visit the Catalan Venice.
10 MAY. MORAIRA – ANDORRA
We depart early morning for our trip towards the Principality Andorra and its capital La Vella. With stops on route for Coffee and Lunch before our arrival at the hotel, which is the Hotel 4* Hotel Delfor in the capital.  Then, free time, dinner in our Hotel.
11 MAY. ANDORRA 
Breakfast and a free day to explore the region for tax reduced shopping in its different malls and shops, or enjoy its famous SPA Caldea. The charming old town – known as the Barri Antic – is home to 12th-century churches and a wonderful town square with valley views. Also a multitude of scenic walking trails easily the best way to take in Andorra's mountainous landscape and mesmerising sunrises over the Pyrenees. Dinner in Hotel.
12 MAY. ANDORRA – RIBES DE FRESSER – NURIA VALLEY – SANTA SUSANNA
After Breakfast we depart towards the Pyrenees area of Ribes de Fresser which is nestled between mountains and rivers, an idyllic natural environment at the gates of the Pyrenees. Once at Ribes de Fresser we will take the rack railway through the stunning nature preserve of the area. You will see the landscape richness formed by forests and meadows. Once at the beautiful Nuria Valley with its stunning views and sanctuary you will have free time for lunch. We continue on to Santa Susanna where we arrive at our hotel for dinner and accommodation.
Santa Susanna is halfway between Barcelona and Girona, the two great capitals of tourism in Catalonia. This is an ideal place for us to base ourselves while enjoying this area of Catalonia. Santa Susanna offers treasures in the form of paradisiacal and little uncrowded beaches as well as locations of great historical and cultural interest. The lovely hotel that we are staying in is the 4* Hotel Florida Park.
13 MAY.  FIGUERES – CADAQUES – SANTA SUSANNA
After breakfast we drive to the northern part of the Costa Brava, to the area of Figueres where the world-famous genius of Surrealism, Dali, had his workshop now a dedicated as a Theatre-museum. You will have free time to look around the area and time for lunch. Continuing on to Cadaqués which is the easternmost town of the Iberian Peninsula and a beautiful Fishing village where Dali lived in a small fisherman's house.  It is currently adapted as a museum. Free time.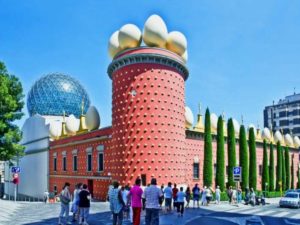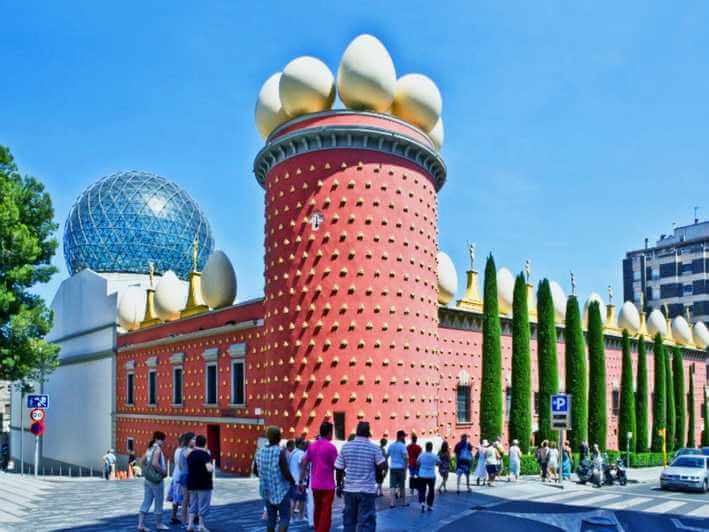 On our return journey to Santa Suzanna we pass through Ampuriabrava known as the Catalan Venice with its channels. which has a natural exit to the sea of ​​the region and the lands of Girona and surrounded by the Natural Park of the Marshlands of the Ampurdán and constitutes the most important residential marina in Europe , with about 24 km of navigable canals.  From here we return to our hotel for Dinner.
14 MAY. BESALÚ – GIRONA – SANTA SUSANNA
Breakfast and departure towards Besalú. Arrival and tour with official guide included. This medieval town with its astonishing fortified bridge is a journey into the middle east. Each street and each building tell a little about the history, the coexistence of cultures, the development of commerce and the hardness of the wars. Built on top of a hill it is possible to see examples of the  Middle Ages with the existence of important buildings and bridge , the Jewish baths , the church of the monastery of San Pedro from Besalú and San Julián, former pilgrim hospital.
We continue on to Girona City with its famous cathedral as seen on the Game of Thrones, and was once used by the Moors as a mosque, after their expulsion it was entirely remodelled and is now one of the most important monuments of Majorcan architect and an excellent example of Catalan Gothic architecture.
We are also in Girona when the Temps de Flors (the Flower Festival)  the brightest of them all. Started some 50 years ago is now one of the biggest and best events in Spain. The festival features a variety of flower arrangements that decorate the city, especially the old town. Wonderful arrangements and bouquets are made by local people and displayed both in public buildings and near their own homes.  Return to hotel for dinner.
15th MAY.  BLANES – TOSSA DE MAR – SANTA SUSANNA
Breakfast and morning visit of Blanes, fishing village with its beautiful coast shape. It is known as the "Gateway to the Costa Brava", which stretches from Blanes up to the French border. We then move on to Tossa de Mar with its famous Old city entirely walled against the sea. In 1950 Ava Gardner and James Mason arrived in the small town to shoot Pandora and the wandering Dutchman and that gave the town some fame. In the movie the town was named Esperanza. Return to hotel for Dinner
16 MAY. SANTA SUSANNA – MORAIRA
We depart after breakfast for Moraira.  With stops on route for Coffee and Lunch before our arrival in Moraira.
---
Included in the price is, coach, excursions, bed breakfast and evening meals in Hotels and Guides.
We want to ensure transparency with our pricing structure. We have based our cost on the number of people who take up the trip as follows – so the more people the cheaper the price for all.
Up to 35 passengers cost €575.
36 to 45 passengers cost €525.
46 to 53 passengers cost €495.
Deposit required €60. Final balance will be informed to you nearer the date.
If you are interested in this trip please either put your name and email address on the list at the travel desk or email Lynn Clark